2020: Our Year in Review
January
We have a good start to the new year right away: on New Year's Day we receive the notification from Graviex that the DMS Coin is now listed on their exchange and can be traded against Bitcoin, Ethereum and Tether (USDT).
coinmarketcap.com, probably the most important information platform for cryptocurrencies, has adopted our project as an "untracked listing". This is the third of four stages. For the "tracked listing" we need more trading volume.
Redundancy: At the end of the month, an additional high-performance web server went online for the block explorer and in preparation for planned web API functions.
February
If you want to run a masternode, you need 5,000 DMS as a collateral. To enable small investors to get started, we looked around for a shared masternode service. However, the disadvantage of these services is that you have to entrust your coins to a third party. So we started our own service where the owner keeps control over his coins. On our Discord server, anyone can rent up to seven shares of 500 DMS each in a masternode.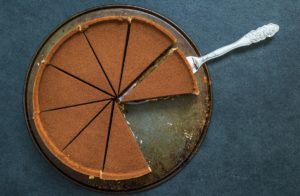 March
The German Patent and Trademark Office (DPMA) has confirmed our trademark application, Documentchain is now a registered word-image trademark.

April
The new release DMS Core "Grace" comes with
a document index that enables the search for document transactions via the file hash. For this purpose, for example, a file can be dragged and dropped into the blockexplorer's search field.
Permanently locked coins prevent, among other things, the unintentional spending of the collateral of shared masternodes.
User interface enhancements,
additional RPC commands
and a block size of 2 MB. The DIP0001 soft fork was defined with this release and successfully activated in May.
Launch of banner campaigns on various advertising platforms.
Listing on the masternode hosting platforms trittium.cc and masternodes-germany.de
May
Start of web service development. The core task of our blockchain, the "Proof of Existence (PoE)" is increasingly used. However, this still requires a locally installed wallet. In the future, this is to be solved with a web API so that users no longer need to install additional software.
After the testnet, the mainnet has now also passed the DIP0001 soft fork.
Listing on the masternode hosting platform crypos.io
July
Document revision v2. The data structure was previously fixed with GUID, file and attribute hash, and an optional owner hash. With the new version, a combination of several hash values can be stored. This gives more freedom to the developers of DMS software and web services in particular. DMS Core will use a SHA3-512 file hash with the next version.
Inclusion of DMS coin in the payment platform cryptocurrencycheckout.com.
August
The new information page shows coin specifications as well as the current distribution. The data is read live from the blockchain and can also be queried via API.
September
"Tracked listing". Now that our trading volume has passed the $1,000 mark, coinmarketcap.com also shows the market data.
The Turkish community is being launched on Telegram. For international chat, there is now an English-language Telegram group in addition to Discord and the English ANN channel.
October
New release DMS Core "Heidi" with
document revision v2 and SHA3-512 file hashes,
BIP9 soft fork (CSV): BIP68, BIP112, BIP113,
a new mouse button "Use available amount" for payment,
"Pay only the required fee" as default setting in Qt Wallet,
a new turkish program interface
and several improvements.
Flits Mobile Wallet. The DMS Coin can now be managed in the mobile Wallet "Flits App" for iOS and Android. The app also enables easy hosting of documentchain masternodes.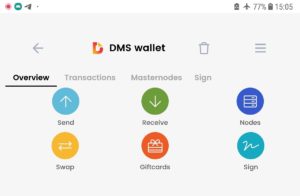 Halving – the block reward decreases from 20 to 15 DMS and will remain so for the next two years.
November
Listing on the masternode hosting platform postmn.com
ZCore is another mobile wallet available for DMS payments and easy masternode hosting.
December
We enjoyed a third exchange for a short time. But then at Christmas some servers of altilly were hacked. According to altilly, the DMS coins were not on any of the attacked servers.
Public API servers: The Web API has been running since summer with some test users. The servers have now been generally released and allow Documentchain to be used in third-party software and web services without a separate wallet. Only one function call is required in each case to deposit and revise a document. Currently, two API servers are publicly available: api.documentchain.org and api.dms.cash