DMS-Wallet
How to install the wallet software "DMS Core" on Windows.
Download
The source code is published on the Github platform. You can compile the software yourself or load a finished version:
Please download the latest release for your operating system, for example "dmscore-version-win64-setup.exe" for a 64 bit Windows.
Note: Many antivirus programs warn against Blockchain software as potentially unwanted software.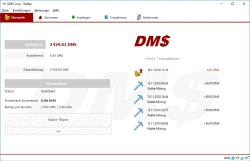 Windows installation
Execute the setup program.
Note the blockchain download option for quick synchronization.
Start "DMS Core" (dms-qt.exe) the Windows Start menu.
The first time you are asked for the data directory. You can accept the standard or specify your own directory. This should be backed up regularly – especially the included file "wallet.dat". Losing this file means losing your coin balance.
Please wait now until the blockchain is synchronized. It may takes some time on the first start.
Language of the user interface
If you want to change the language:
Please click 

Display

 tab in the   menu.
 and switch to the 
Select your language at 

User interface language

.
Font size does not fit?
The Wallet user interface uses default settings, which are easily readable on most systems. However, you can also customize this to suit your own needs:
In the 

Appearance

 tab.
 menu: Please click   and go to then 
Adjust the

Font Scale

until it fits perfectly.
» Tip: Now, you can mine a few coins yourself.